How to choose the best graphics card for your pc
It's not easy to pick the right graphics card for your computer. There are so many factors that you need to take into account, including what you plan to do with your PC. A good graphics card will improve your experience while playing games. The main function of your graphics card is to accelerate graphics and enhance the visual experience while you play. It even plays a more important role than the processor.
Today we have a complete Guide on how to choose the best graphics card for your PC. It goes over the main factors in deciding which graphics card is right for you, the pros and cons of Nvidia and AMD GPUs, what's your Budget, selecting a GPU according to your build, what kind of game you want to play, and your preference.
---
How to choose the best graphics card for your Gaming PC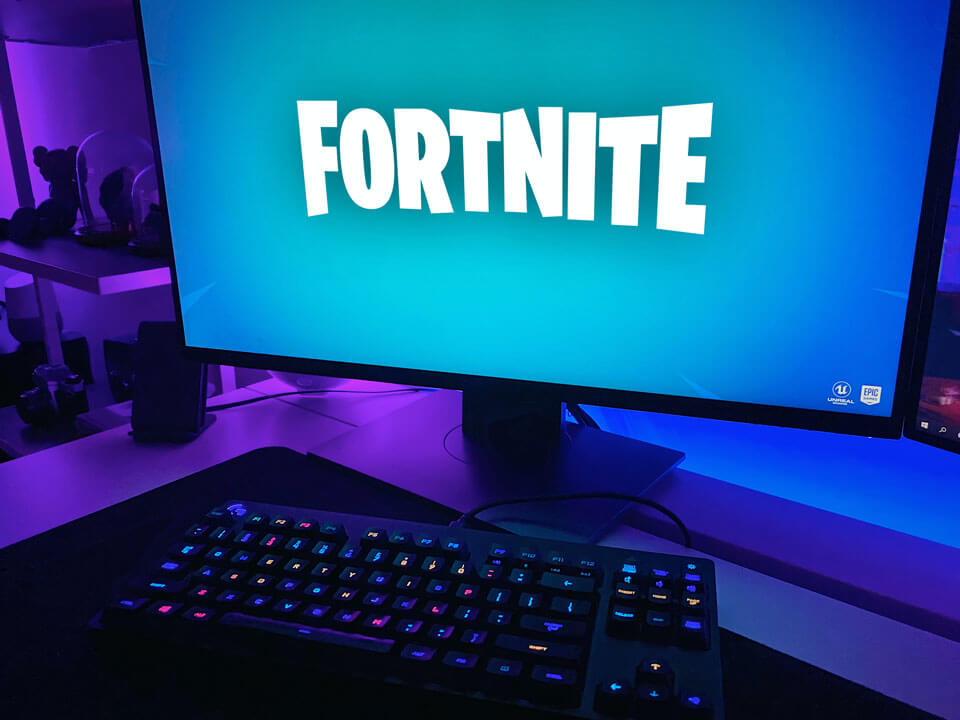 The best graphics card for your specific gaming needs will vary depending on your budget, gaming preferences, and system specifications. However, here are some general tips that may help you choose the right graphics card for your system.
Gaming
The answer to this question is crucial to your main objective. You must select a GPU differently if you want to play video games. Gamers can find GPU models specifically designed for office work or productive tasks that aren't as good for gaming. Therefore, not every GPU will perform well in gaming and productive tasks.
There are completely unique graphics cards designed specifically for gamers. Furthermore, only professional tasks are supported by professional graphics cards. Starting with gaming graphics cards, let's discuss the things to consider before purchasing a gaming GPU.
Types of Games you play
Every game has different GPU requirements. Therefore, you must decide what kind of game you want to play.
You will need a powerful gaming GPU if you want to play the most recent titles that require a lot of GPU power, such as Call of Duty Warzone, Battlefield V, Red Dead Redemption 2, Forza Horizon 5, FarCry 6, and Stray. A minimum of an Nvidia RTX 3060 or AMD Radeon RX 6600 XT is required to play these games at high graphics; however, there are many other options as well.
If you want to play Fortnite, Rainbow Six Siege, OverWatch 2, CS: GO, Valorant, DOTA 2, League of Legends, and other games with lower graphics requirements. Then, a midrange or entry-level GPU would be necessary to run these games. The best GPUs for these games are AMD Radeon RX 6500XT and RX 6600, Nvidia GTX 1660, RTX 3050, etc. Another aspect is the resolution and refresh rate you want to use to play the game.
Display Resolution Preference
It's time to decide at what resolution you want to play after choosing the game type. For high resolution, a powerful GPU is required. There is a possibility that a GPU that can run games easily at 1080p may struggle to run them at 4K resolution. A strong graphics card is required even when playing Fortnite at 4K resolution.
Higher Resolution = More Powerful Graphics card | Low Resolution = Less powerful graphics card
Your Monitor Refresh Rate
After considering screen resolution, you must also consider your monitor's refresh rate. The refresh rate of your monitor refers to how many new images it can show each second. If your monitor is 144Hz, it will display 144 images or frames per second. Higher GPU power is needed to display more frames.
Mid-range gaming GPUs are capable of 1080p 60Hz gaming. However, you need a strong GPU if you want to run at 1080p 240Hz or 1440p 144Hz.
Higher Refresh Rate= More Powerful GPU | Low Refresh Rate = Less powerful Graphics card.
A reasonable refresh rate is 144Hz or Higher. However, most casual games use 1080p 60Hz or 75Hz monitors or 4K 60Hz monitors. The majority of Competitive Gamers are using 1080p 144Hz or 240Hz monitors. So, if you want to enter the competitive gaming world, you should have a GPU capable of running 1080p games at 240 FPS.
---
How to choose GPU for Professional Applications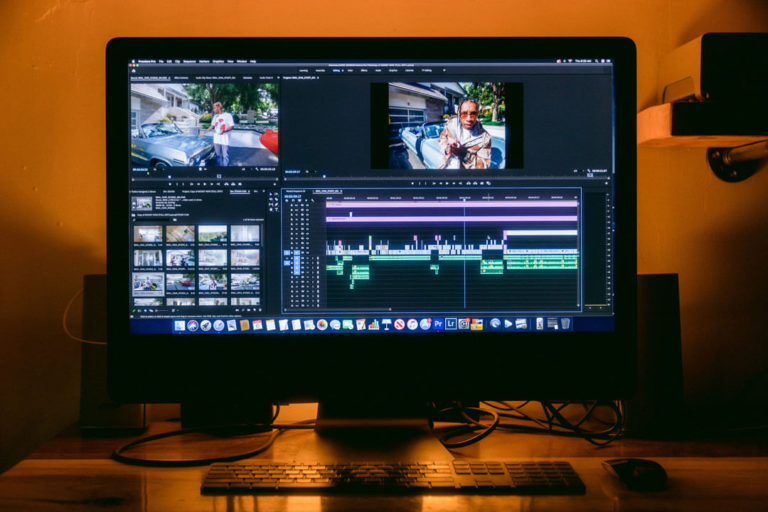 You must make the appropriate decision if you need a GPU that can perform more quickly and effectively in productive and professional applications.
Professional graphics cards are required if you are planning to use AutoCAD 3D, Adobe Photoshop, or Adobe Premiere Pro. In comparison to AMD Graphics cards, the Majority of Nvidia Graphics cards operate efficiently in these programs. Both the Nvidia GTX and RTX series are capable of performing productive jobs. However, the RTX 30 Series graphics cards are far more advanced and faster.
Also Read: What is the difference between GTX and RTX Graphics cards?
AMD manufactured Radeon Pro graphics cards for productive tasks, and Nvidia developed Quadro and RTX graphics cards. Those looking for a GPU that performs well both in gaming and productivity should consider Nvidia graphics cards.
Nvidia or AMD: Which one is better?
Both Nvidia and AMD produce high-quality, fast graphics cards. Both companies design graphics cards, from entry-level to high-end, and each GPU has advantages and disadvantages.
AMD is the best choice for gamers aiming for affordable GPUs. Most AMD graphics cards offer better price/performance ratio in gaming when compared to Nvidia. However, the majority of AMD GPUs struggle with productive work.
Nvidia GPUs are for those who want a graphics card that is both good for gaming and productive tasks as well. Nvidia also provides better 4K Gaming, Ray-tracing performance, and Advanced DLSS.
Here is the list of Top Nvidia High-end GPUs.
| | | | |
| --- | --- | --- | --- |
| Name | Cuda Cores | Memory | Release Price |
| Nvidia RTX 4090 | 16384 | 24 GB | 1599$ |
| Nvidia RTX 3090 TI | 10752 | 24 GB | 1999$ |
| Nvidia RTX 3090 | 10496 | 24 GB | 1499$ |
| Nvidia RTX 3080 Ti | 10240 | 12 GB | 1,119$ |
| Nvidia RTX 3080 | 8704 | 10 GB | 699$ |
| Nvidia RTX 3070 Ti | 6144 | 8 GB | 599$ |
| Nvidia RTX 3070 | 5888 | 8 GB | 499$ |
For Better Understanding: The Nvidia Top GPUs are best for 4K gaming, 1440p (144Hz, 165Hz), and 1080p 240 Hz Gaming. You can also score 1440p 240Hz in many E-sports games with RTX 3080 Ti and above GPU. Every GPU mentioned above has a different performance.
Here is the list of Top Nvidia Budget and Mid-Range Graphics cards.
| | | | |
| --- | --- | --- | --- |
| Name | Cuda Cores | Memory | Release Price |
| Nvidia RTX 3060 Ti | 4864 | 8 GB | 399$ |
| Nvidia RTX 3060 | 3584 | 8 GB | 329$ |
| Nvidia RTX 2060 | 1920 | 8 GB/12 GB | 329$ / 349$ |
| Nvidia RTX 3050 | 2560 | 8 GB | 249$ |
| Nvidia GTX 1660 Ti | 1536 | 6 GB | 279$ |
| Nvidia GTX 1660 Super | 1408 | 6 GB | 229$ |
These mid-range and low-cost graphics cards are suitable for gaming at 1080p and 1440p. The RTX 3060 Ti support 120-144Hz 1080p/1440p and 4K 60+FPS gaming.
AMD is best for?
AMD also has some super-powered Graphics cards; in terms of gaming performance, many are cheaper and better than Nvidia's.
Here is the list of some AMDs top Gaming Graphics cards
| | | | |
| --- | --- | --- | --- |
| Graphics card | Cores | Memory | Release Price |
| AMD RX 6950 XT | 5120 | 16 GB | $1099 |
| AMD RX 6900 XT | 5120 | 16 GB | $999 |
| AMD RX 6800 XT | 4608 | 16 GB | 649$ |
| AMD RX 6800 | 3840 | 16 GB | 579$ |
| AMD RX 6750 XT | 2560 | 12 GB | 549$ |
| RX 6700 XT | 2560 | 12 GB | 479$ |
All these Graphics cards compete with the Nvidia top GPUs. The RX 6950 XT competes with the Nvidia RTX 3090 Ti but costs less than Nvidia RTX 3080 Ti. The RX 6700 XT and 6750 XT compete with the Nvidia RTX 3070. AMD RX 6900 XT consumes much lesser power than Nvidia RTX 3090.
Depending on the graphics card, there are different perks.
Here is the list of AMD Mid-range & Budget Graphics cards.
| | | | |
| --- | --- | --- | --- |
| Graphics card | Cores | Memory | Release Price |
| AMD RX 6650 XT | 2048 | 8 GB | 399$ |
| AMD RX 6600 XT | 2048 | 8 GB | 379$ |
| AMD RX 6600 | 1792 | 8 GB | 330$ |
| AMD RX 6500 XT | 1024 | 4 GB | 199$ |
The performance of RX 6650 XT lies between RTX 3060 Ti and RTX 3060. The AMD RX 6600 performs better than RTX 3050.
For Gamers, AMD most GPUs give a better price/performance ratio.
For Gaming and Productivity, Nvidia's most GPUs provide a better price/performance ratio.
Budget
Graphics cards come in different prices, and you can find one for 100$, like Nvidia GT 1030, or one for more than 1000$, like RTX 3090 or 4090. Purchasing expensive graphics cards is not mostly worth it unless you want to game at 4K resolution or want to do Intensive tasks like 3D Rendering and Machine Learning.
The performance of the Nvidia RTX 3090 Ti at 4K gaming is only 10% greater than the RTX 3080 Ti, but the price difference is huge. So it would be best to consider whether you genuinely require that 10% increase in performance. Buying an RTX 4090 or RTX 3090 Ti for 1080p or 1440p gaming is a cost-effective decision.
| | | |
| --- | --- | --- |
| GPU | Class | Best for |
| Nvidia GeForce RTX 3060 Ti, RTX 3070, RTX 3070 Ti, AMD RX 6700 XT, 6750 XT | Mid-range | 1080p and 1440p High refresh rate gaming, VR |
| RTX 3080, RX 6800 XT | High-end | 1440p High refresh rate Gaming, 4K Gaming, VR compatible, Professionals applications |
| Nvidia RTX 3050, RTX 3060, AMD RX 6600 and 6600 XT | Budget | Best for 1080p High refresh rate gaming, VR Compatible, 1440p 60 Hz Gaming |
---
How to Buy a Graphics card: What specs are important?
When looking to buy a graphics card, the most important specs to look for are:
CPU and GPU Balance & Bottlenecking
Maintaining system balance is critical when purchasing graphics cards. You must examine your power supply, processor, PC casing, and other components. When combining a graphics card and a processor, they must be equally powerful. If we pair a 600$ Graphics card with a 100$ Processor, there will surely be CPU bottlenecking. This means that the GPU can't perform at its full potential.
If you have an i7 or i9 12th Gen Processor, then every latest graphics card will work perfectly fine. But, if you have an i5 or i7 4th gen processor, then you can't pair any powerful graphics card.
Also Read: What is CPU and GPU Bottlenecking: How to Fix it?
For example, if we pair the Intel i5 6600K with Nvidia RTX 3060 Ti, the GPU is overpowered compared to the CPU. In that case, the CPU will perform at 100% potential, but the GPU is only 30-40% used. So, you can't get a better performance here because of CPU Bottlenecking.
So it's better to get a 200-250$ Processor and a 400-500$ Graphics card.
Power Supply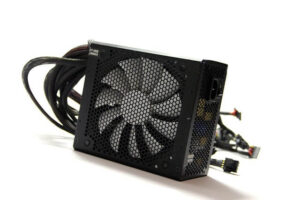 Graphics cards require more power than the processor and other PC components. The power consumption of even a low-end graphics card can exceed 75 Watts. Currently, graphics cards require a power supply of at least 600-700 Watts.
Also Read: Best 75 Watt TDP GPU for Gaming
Check the Power Supply Requirement when purchasing any GPU. Just search GPU name and then PSU Requirement. If your power supply is underpowered, it is recommended that you should upgrade your PSU.
Higher GPU TDP = Higher Power Supply Requirement
Upgrade Tip – If it states (450 Watts PSU is required), grab a 550 or 600 Watt power supply instead. It doesn't mean that 450 Watts won't work, but upgrading your power supply makes your PC more future-proof.
PC Casing and Motherboard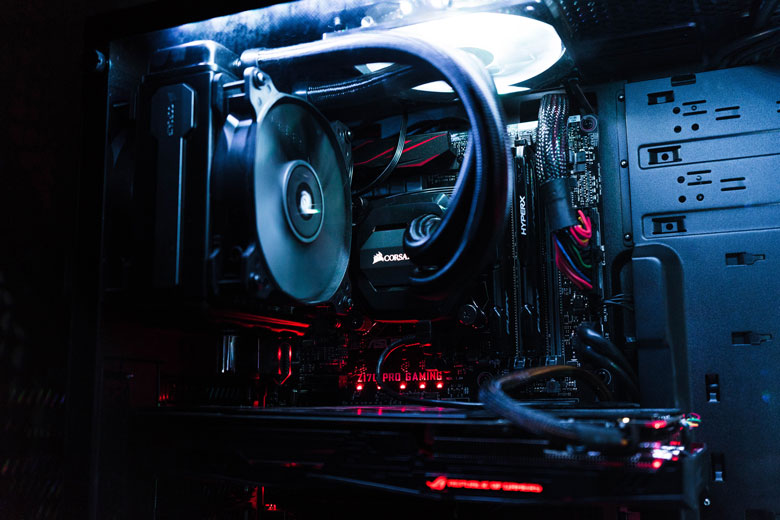 If you are getting a dual or triple fan graphics card, you must ensure that your PC Case has enough space for your GPU. Check the Dimensions (LxWxH) of your GPU and Casing. If you have an ATX motherboard, then dual or triple fan GPU can fit, but if you have Micro or Mini ATX, it's recommended to get a single fan GPU.
Almost Every latest GPU requires dual or triple slots in your case. You may be able to fit many dual-slot Graphics cards in Micro-ATX motherboards, but make sure you check the specifications first.
Memory Size
Games are becoming more complex, more power-demanding, and require more VRAM. It is recommended that you get a GPU with at least 8 GB of GDDR6 memory to play 1080p games. If you plan to play games at 1440p or 4K, you should get a GPU with 12 GB GDDR6 Memory.
Also Read: What is a Good Graphics card RAM Size
Power-Connectors
Check that your PSU has supplemental connectors that you need for your Graphics cards. Most RTX 30 Series GPUs have 1x 12-pin connectors, and most AMD GPUs require 1x 8-pin or 2x 8-pin power Connectors. So, check what power connector your GPU has.
A few older GPUs, like Nvidia GTX 1050 Ti and GTX 1650, didn't even need power connectors because they were so power efficient.
Ports
In order to get a display from your system, we connect our monitor to the graphics card ports. If your monitor has DVI-I, VGA, or HDMI port, we connect it with that same graphics card port. So, even if you plan to connect your PC with multiple monitors, confirm that the GPU you purchase has multiple output options.
Other Factors
You must consider these very important factors when buying Graphics cards. You can also check Clock Speed, Cuda Cores, Memory Speed, and Bandwidth. But, they are not that much important; they may lead to more complexities. Overall performance matters more than specs. Some 8GB and higher Cuda cores GPUs are slower than lower RAM and fewer cores GPU. Yes, they play an important role in performance.
---
Conclusion
If you want to play games, you will need a graphics card with many CUDA cores, Good Memory Size, and Clock Speed. However, you should also consider the other specifications. Check out reviews to ensure that the card you purchase has satisfactory performance. Also, you should know that an expensive card on the list is not necessarily the best. You may also want to check out the price/performance of the card. High-end models tend to be pricier, and some don't provide a good price-to-performance ratio. You should only buy the best model that fits your budget and needs.