Nvidia RTX 4080 vs 3080: Is it worth getting the new one
As you probably know by now, Nvidia has released its new graphics card lineup of the RTX 40 series. They have two main models that are going to be competing against each other in the market: the RTX 4080 and the RTX 3080. In this post, we will compare the two and see how they differ from each other. However, the question arises, is the RTX 4080 worth it?
Well, we can't say for sure. The best thing to do is to make a decision based on your personal preferences. There is a very big performance difference between the two graphics cards. If you are looking to save money, it might be best to buy the RTX 3080. However, if you want to play the latest games with high graphical quality at 4K, you should definitely buy the RTX 4080.
The question "is it worth it buying the RTX 4080" depends on what you are looking for in your computer. If you just need to watch movies on Netflix or don't want to play at 4K, you probably don't need an $800+ graphics card. But if you like playing games on the highest settings, you should probably get the RTX 4080 because it's faster and has better performance than the RTX 3080. If you are wondering why the RTX 3080 costs only $700 and RTX 4080 costs 1200$, it is because it is not as powerful as the RTX 4080. So, if you want to play the latest AAA game with very high-quality settings, you should probably get the RTX 4080.
Quick Specs Comparison
| Specs | RTX 3080 | RTX 4080 |
| --- | --- | --- |
| GPU Variant | GA102-200-KD-A1 | AD103-300-A1 |
| Architecture | Ampere | Ada Lovelace |
| Cuda Cores | 8704 | 9728 |
| Memory Size | 10 GB GDDR6X | 16 GB GDDR6X |
| ROPs | 96 | 112 |
| Base Clock | 1440 MHz | 2205 MHz |
| Boost Clock | 1710 MHz | 2505 MHz |
| TDP | 320 Watt | 320 Watt |
| Recommended Power Supply | 750 Watt | 750 Watt |
| Power Connectors | 1x 12-pin | 1x 16-pin |
| Outputs | 1x HDMI 2.1 / 3x DisplayPort 1.4a | 1x HDMI 2.1 / 3x DisplayPort 1.4a |
| Max Temperature / Average Temperature | 81°C / 78°C | 78°C / 63°C |
---
NVIDIA GeForce RTX 3080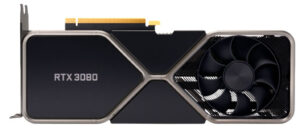 In September 2020, NVIDIA unveiled the RTX 3080, a complete 4K gaming GPU. Its 8nm silicon outperformed the RTX 2080 Founders Edition from its previous generation. It has second-generation hardware-accelerated raytracing, which provides special lighting, reflections, shadows, and raytraced shadow blur features. The GPU has 8704 Cuda Cores and 10 GB of GDDR6X memory. Additionally, NVIDIA released a model with 12 GB of memory and 8960 Cuda Cores.
There are very few 4K UHD games where the RTX 3080 struggles to deliver 60+ frames per second. Aside from that, you'll get lag-free 4K UHD 60 Frames gaming. With a 66% improvement in 4K performance over the RTX 2080, the RTX 3080 took a significant performance leap. Not only that, but it also outperformed the RTX 2080 Ti by more than 30%. Simply put, costs decreased while benchmarks increased.
Its performance was enhanced, and other crucial aspects were also taken into account. Raytracing, DLSS, and power efficiency all significantly improved thanks to Nvidia. This GPU changed the game for professionals as well as players. It performed twice as well as RTX 2080 in both 3D Rendering (Blender) and Video Rendering (Premiere Pro).
Pros
Much faster than RTX 2080 and 2080 Ti
Better price/performance ratio than RTX 2080/2080 Ti
4K 60 FPS Ready
Improved Raytracing and DLSS
Cons
---
NVIDIA GeForce RTX 4080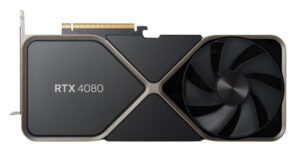 The recently introduced RTX 4080 from NVIDIA totally changed the 4K gaming market. Released in November 2022, this flagship GPU is designed for 4K UHD gaming with Raytracing. The RTX 4080 is introduced to replace the RTX 3080, although it offers a significant performance boost over the RTX 3090 Ti.
The NVIDIA RTX 4080 has 16 GB of GDDR6X memory, 22.5 Gbps memory speed and 2505 MHz boost clock speed in addition to 9728 Cuda Cores, 112 ROPs, and 76 RT Cores. The RTX 4080 from Nvidia proved all the rumors to be false by being even more power efficient than the previous generation RTX 3080. The GPU was quieter and cooler under a 100% constant gaming load than the RTX 3080. The only thing that hasn't been improved is the cost.
Pros
Much Faster than RTX 3080 and even faster than the 3090 Ti
Runs games at 4K 60+ FPS with Raytracing
Capable of 8K Gaming
DLSS 3 frame Generation
It consumes less power than RTX 3080
16 GB VRAM
High Clock Speed
Low Temps
Cons
Expensive
Not a reasonable option for 1080p/1440p gaming
Louder Fans
---
Nvidia RTX 4080 and RTX 3080 Gaming Performance
The GeForce RTX series is built for demanding work duties as well as top-tier PC gaming. These new graphics cards provide up to 2x the performance of their predecessors while dramatically reducing power consumption. You can play most games at very high graphics, including 4K and 8K. We noticed that the 4080 is 50% faster than the RTX 3080 and 25% faster than Nvidia's last-gen fastest GPU RTX 3090 Ti.
| | | |
| --- | --- | --- |
| Game (4K Ultra Graphics) | Average FPS by RTX 4080 | Average FPS by RTX 3080 |
| Forza Horizon 5 | 123 | 82 |
| Cyberpunk 2077 (Raytracing Ultra ) | 55 | 41 |
| COD: Modern Warfare 2 | 95 | 61 |
| Red Dead Redemption 2 | 99 | 71 |
| Shadow of the Tomb Raider (DXR off) | 135 | 89 |
---
Working Performance
The workstation market was taken into consideration when designing the RTX 4080. The RTX 4080 GPU is very well-suited for video editing and 3D rendering. It is also the perfect choice for content creators who need a powerful GPU. We have compared the new RTX 4080 to its predecessor, the RTX 3080. We have also shown the differences between the two models.
| | | |
| --- | --- | --- |
| Application | Nvidia RTX 4080 | Nvidia RTX 3080 |
| Blender Benchmark 3.3.0 – Monster (Samples per Minutes – Higher is Better)  | 4812 | 2,522 |
| DaVinci Resolve H.264, H.265 ( M: SS – Lower is better) | 4:56, 4:56 | 5:32, 5:32 |
| SPECviewperf 2020 ( 3DS Max Score -Higher is better) | 178 | 108 |
---
Is it worth getting the RTX 4080 for 1200$
The RTX 4080 Competes very well with the Nvidia Last Gen RTX 30 Series Graphics card. It is significantly faster than the RTX 3080, RTX 3090 Ti, and AMD RX 6950 XT. In gaming, it is about 22% faster than the RTX 3090 Ti and overall 64% Faster (55% in gaming and 72% in Productivity) than AMD RX 6950 XT.
If you're planning to play games like Fortnite, Apex Legends, and PUBG at 4K, then you would definitely get the RTX 4080 over the RTX 3080. However, if you are going to play less demanding games at 4K, like CS: GO, Dota 2, and OverWatch 2, You should purchase the RTX 3080 instead. Overall, the RTX 4080 is an excellent GPU for 1200$.
---
Some Improvements over RTX 3080
The Nvidia RTX 4080 is undoubtedly a significant upgrade over the RTX 3080. The game performance is outstanding, but Nvidia also made significant improvements to the power consumption and temperature of RTX 4080.
Power Consumption – It is incredibly low if we compare the power consumption while gaming at 1440p to the competing cards. While playing Forza Horizon 5 and Hitman 3, the GPU consumes less than 280 Watts, even at 4K Ultra Settings. In the FurMark Stress test, GPU reached a maximum power consumption of 310 Watts, while RTX 3080 reached a maximum power consumption of 433 Watts. At 4K gaming, the RTX 4080 consumes an average of 287 Watts; at 1440p, the average consumption is 251 Watts.
Temperature – The coolers are designed to maintain temperatures between 58°C and 65°C even while operating at maximum capacity. The RTX 3080 maintains a temperature range of 65–80°C. The RTX 4080 won't get hot in a small form factor chassis, but it will need a big PC case due to its large size.
---
Is it the Best Time to Buy the RTX 4080
The RTX 4080 is a fine card; however, it could have a better price-to-performance ratio. It is even harder to get the card at its MSRP. I think waiting for the new AMDs RDNA 3 GPUs can be better. Priced at 899 dollars for the AMD RX 7900 XT and 999 dollars for the RX 7900 XTX, respectively. In 4K raytracing and rasterization, it will outperform the AMD RX 6950 XT by an impressive 67% and 80%, respectively.
If these results held true, the RX 7900 XTX would definitely outperform the Nvidia RTX 4080 despite costing less money. 
But For 1199$, the NVIDIA RTX 4080 is a super powerful GPU that can reach 4K 144FPS. The RTX 40s are excellent if you prefer NVIDIA GPUs and don't want to experience or wait for the AMD new lineup.