How Important is a Graphics card for Video editing
You might be thinking that a graphics card (GPU) is essential for video editing, and you're probably right. In order to edit large videos efficiently, GPU is the most important component of your computer. It's not responsible for processing the footage. This task falls to the CPU.
A powerful GPU will be able to keep up with your editing needs and provide you with a smooth workflow, whereas poor performance from an underpowered GPU will result in stuttering footage and lagging playback.  A video editing software needs to have a fast enough graphics card to process all the data coming from the footage you are editing. As a result, if you are not using a good-quality graphics card, your video editing will be slow and may not work at all. So, in this article, we'll discuss how important is a graphics card for video editing.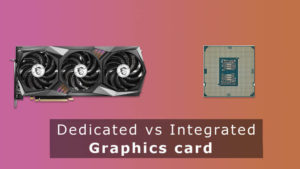 What is an Integrated and Dedicated Graphics card? And why to choose a Dedicated Graphics card
The Integrated Graphics card doesn't have CPU and memory, so they use the system's CPU and memory. The GPU is currently integrated into most computer processors, so you do not have to buy it separately. The integrated Graphics card is not always built-in in every processor. The Ryzen processor mostly doesn't have a graphics card, so you have to buy a Dedicated GPU to run the PC.
The Integrated Graphics cards are usually less powerful and more power-efficient.
The Dedicated Graphics cards have their own processor and memory. You have to buy a dedicated graphics card separately. The Dedicated Graphics cards are usually more powerful but less power efficient.
In time, integrated graphics cards have grown more powerful, and they can now run many of the latest games at a reasonable resolution. Even Many Integrated Graphics cards are better than External graphics cards.
If integrated graphics cards are getting better, why would a dedicated graphics card be a better choice?
Why is a dedicated graphics card is a better choice for video editing?
It may be argued that since an integrated graphic card (I-GPU) can do basic tasks, why do we need a separate graphics card or Dedicated GPU? If you are not a professional video editor, then a graphics card may not be essential for you because IGPU can easily do simple video editing tasks.
Those who work as video editors or are planning to become video editors need a great graphics card just as much as anything else.
Many people still think that every graphics card performs well for video editing, but that's not true. Many graphics cards are expensive but perform worse than a budget graphics card in video editing. So, selecting the best graphics card for video editing is another task. We will discuss what makes a good graphics card superior to entry-level graphics cards and its importance.
Why do I need the best graphics card for video editing?
Only the best graphics card can perform well in video editing. A powerful GPU is important for those who edit High-end Videos with high resolution and data rate or who you use a multi-cam setup. It can also render a lengthy timeline in less time, while the IGPU will take more time. Time is crucial for video editors, content creators and freelancers, so slow video rendering can really annoy them and waste their time.
So, If you are a professional video editor, then a dedicated Graphics card is essential. If you merge multiple clips and apply many filters and effects to them, you need a good graphics card that can easily handle them. With a good GPU for video editing, your workflow will become fast, improve timeline scrubbing, apply filters, and effect becomes much quicker.
Some LUTs are so heavy that they take 50-70 secs to preview, so in that case, only CPU is not enough, but if a good GPU is paired with the system, then the preview time is significantly reduced.
If you want to be a video editor or want to increase your video editing experience, then a good GPU is very important.
How to choose the right graphics card for video editing?
Choosing the right graphics card for video editing entirely depends on your requirements. If you are a Beginner, then a low-budget graphics card is okay because you don't perform heavy tasks at the start. You can upgrade your GPU when you feel like that your current GPU is getting for your required tasks. A budget graphics card like Nvidia GTX 1050 Ti or GTX 1650 Super will be fine for a mid-level video editor. A high-end graphics card like the Nvidia RTX 3060 Ti or RTX 3070 is perfect for professional video editors. Most people use Adobe Premiere Pro for video editing, so if you are one of them, then select the Best graphics card for Premiere Pro.
---
Nvidia graphics cards are better for Video editing or AMD graphics cards?
The Nvidia graphics card performs better than AMD cards in video editing, and that's because of CUDA technology. In the Premiere pro comparison test, The Nvidia RTX 3070 performed better than Radeon RX 6900 XT. Also, the Nvidia GTX 3060 Ti was only 0.9% slower than AMD RX 6900 XT. In DaVinci Resolve, The Nvidia graphics card performed much better. You should be going with the Nvidia graphics card if you use Adobe Premiere Pro or DaVinci Resolve.
In PugetBench for Premiere Pro V0.92 the Nvidia GeForce RTX 3070 8GB scored 1040 and the AMD Radeon RX 6900 XT 16 GB- scored 998 (higher is better).
AMD graphics cards are made for gamers, while the Nvidia graphics card have been meant for gamers, content creators or Professional application users.
What are the benefits and drawbacks of using a Dedicated Graphics card?
As discussed earlier, a GPU gives better performance and provides better workflow. The slow loading of videos and applying filters doesn't annoy you. With a smooth workflow, you'll enjoy the process. You can apply many filters, and they will load in less time. The main benefit is that the process becomes fast, saving your time.
[i2pc show_title="false" title="Pros & Cons" show_button="false" pros_title="Pros" cons_title="Cons" ][i2pros]It can handle high-resolution videos.
Applying many filters and effects will not slow down the process.
It can easily render a large timeline.
Saves time[/i2pros][i2cons]Usually expensive
Consumes more power[/i2cons][/i2pc]
Conclusion
A Graphics card is very beneficial for video editors and content creators. We'll personally recommend a graphics card for video editing because, with the integrated GPU, you can only do basic level tasks. At some point, you may feel that the IGPU is not enough for video editing. For Basic Video editors who edit 1080p videos with few cuts and few filters, then a graphics card is not essential.
If you rely only on the CPU, export time will take a lot of time. Only by pairing Nvidia GTX 960, which is an older entry-level card, the export time decreased four times which means videos exported from 2 secs to 0.5 sec.
We hope this article was helpful for you!