Is GTX 1650 good for gaming in 2022
The GTX 1650 is a great budget gaming card for users willing to spend $160 or less (prices may change over time). It's a huge step up from the GTX 1050 and GTX 1050 Ti and can easily run The Witcher III, Battlefield V, and many heavy games at 1080p with High graphics settings. It's not just a great choice for low-budget users, but it's also a great choice for anyone who needs a power-efficient GPU. In some cases, it is not a good option for gaming but we'll discuss that later in this article.
The GTX 1650 has a powerful overclocking ability, meaning it can offer better performance than the RX 570 4 GB after overclocking. But, in this article, we'll discuss in what cases and for what users GTX 1650 is good for gaming in 2021? We'll also check the gaming performance of this GPU in the latest and most played games.
The MSI GeForce GTX 1650 (Gaming X GDDR6) model is the graphics card that we tested for this article
---
 Nvidia GeForce GTX 1650 VS The Nvidia GTX 1650 Mobile (Laptop)
Background vector created by starline – www.freepik.com
The GTX 1650 Mobile version that we find on the laptops is almost 10-13% slower in gaming than the MSI GeForce GTX 1650 Gaming X. The GTX 1650 mobile was providing 72 FPS in GTA V with High-Very High graphics settings, while the MSI GTX 1650 was providing 81 FPS with Very High graphics settings. In Forza Horizon 4, the GTX 1650 Laptop was 15-16 slower than MSI GTX 1650 Gaming X. But, in some games, the performance difference was very minimal.
For Budget Laptops, the Nvidia GeForce GTX 1650 is a good option for gaming.
---
When Nvidia GTX 1650 is good for gaming
---
1. An excellent option for MOBA games Lover
In a world where games like Dota 2, League of Legends, and other MOBA games are the first preference for many PC gamers, graphics often hold a huge amount of importance. For them, the MSI Geforce GTX 1650 is very good for gaming. This GPU can run every MOBA game smoothly at 1080p with High graphics settings or even with 1440p High graphics settings.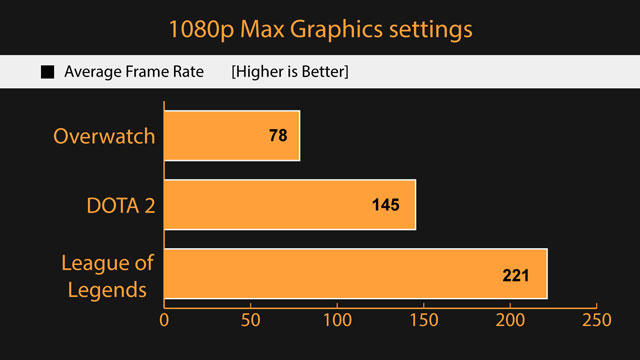 Every Multiplayer online battle arena game runs smoothly with this Graphics card.
---
2. Good option for many Battle Royale games
Battle Royale games are becoming more and more popular with Battle Royale players because of their simplicity and fun nature. Battle Royale games such as Fortnite and PlayerUnknown's Battlegrounds require a lot of graphics power. The Nvidia GTX 1650 is powerful enough to run the game smoothly and at a high resolution. Some Battle Royale games are not playable at high graphics with this Graphics card.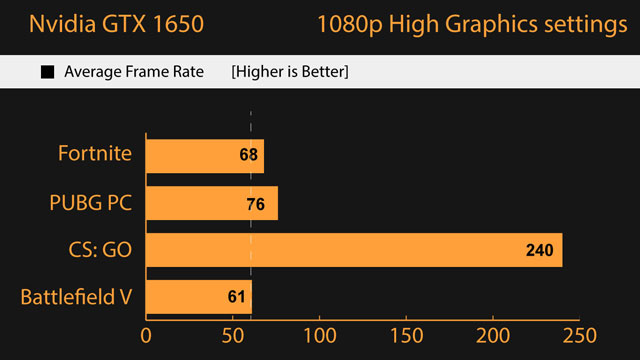 Fortnite was providing 100 FPS with High graphics and Shadows turned off. The Battlefield V runs more smoothly with Medium-High graphics settings.
---
3. Good for 2014-2018 Games and many 2019 games
If you love playing games and you don't prefer High or Ultra graphics that much then GTX 1650 can be a great GPU for you. It can easily run many latest games at High graphics settings, but games like Red Dead Redemption 2, AC: Odyssey, COD: Warzone are only playable at 1080p with high graphics settings. We tested many games with this GPU, and here are some latest games that run smoothly at 1080p High graphics.
If you lower some graphics settings, then you can enjoy smooth 60 FPS gaming.
---
4. Good option if you looking for the best low power GPU
Many Gamers prefer a good-performing graphics card that consumes very less power. Well, the Nvidia GeForce GTX 1650 is the Best 75 Watt GPU for gaming. On average gaming, such as playing some older games that aren't too power-intensive, it consumes less than 70 Watts. When playing the latest games, it consumes almost 75 Watts which I think is good for a card with this performance.
---
When GTX 1650 is not good for Gaming?
---
5. Not a good option for the 2020 and 2021 Games
Running many 2019 games is still possible for this card but when it comes to 2020 games, it becomes very difficult for it to run games. If you are okay with 1080p low graphics gaming and < 60 FPS, then you should consider the GTX 1650 as a good option for gaming.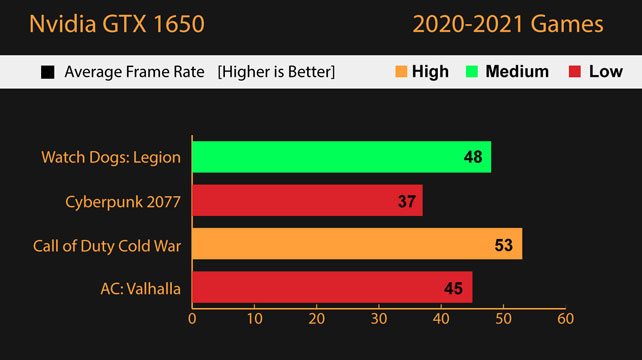 Some 2021 Games are also playable with reasonable graphics settings. The Resident Evil Village, Hitman 3 runs smoothly with medium-high graphics settings.
---
6. Not a good option for 120-144 FPS Gaming with High or Ultra graphics settings.
If you want a graphics card that can provide Higher frames in Power demanding multiplayer games like COD: Warzone and Apex Legends then the Nvidia GTX 1650 may not be a good option for gaming. The Apex Legends runs with 92 FPS and COD: Warzone with 65 FPS at medium graphics settings.
---
Conclusion
The Nvidia GeForce GTX 1650 is good for gaming if energy efficiency and cooling performance is your first preference. The AMD Radeon RX 570 4GB is cheaper and faster than GTX 1650, but RX 570 consumes a lot of power.
The Nvidia GeForce GTX 1650 (Laptop)is also good for gaming. In Gaming, It provides performance very close to GTX 1650 Ti (Mobile) version.
You can play almost every game with this graphics card. The latest games often require sacrificing some settings to achieve acceptable frame rates, but this card does fine considering its low budget.
The GTX 1650 Super is a much better option for just a few dollars more because the release price of the Nvidia GTX 1650 Super is only 10$ more than Nvidia GTX 1650.