4 Best Graphics Card under 600 Dollars in 2022
I think that most of the people who are reading this blog are PC enthusiasts, and they are looking for something more than what the regular GPU can offer. And, If you're a gamer, you know how important graphics cards are. It's not just about the graphics, but the power to play games smoothly. In 600$ budget, you can easily get a graphics card that can run games at 4K or 1440p High refresh rate. Even if you are a content creator, you'll surely find the best GPU.
If that's the case, you will love this post because we've researched and compiled a list of the 4 best graphics cards under 600 dollars.
Best Graphics Card under 600
| Model | Design | Title |
| --- | --- | --- |
| PowerColor Red Dragon RX 6700 XT | | Best For 1440/4K |
| Zotac Nvidia RTX 3060 Ti Twin Edge OC | | Best for 1440p |
| XFX Speedster SWFT210 RX 6600 XT | | Best 1080p GPU |
| MSI GeForce RTX 3060 Gaming X | | Great Pick |
---
1. PowerColor Red Dragon RX 6700 XT –
Best option for Gamers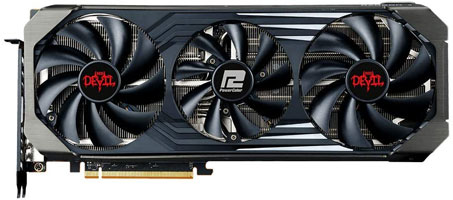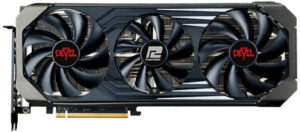 Cores: 2,560 | Memory: 12 GB GDDR6 | Boost Clock: 2,622 MHz | TDP: 230 Watt | Suggested PSU: 750 Watt | Outputs: 1x HDMI 2.1 and 3x DisplayPort 1.4a
According to the current GPU prices, this AMD RX 6700 XT under 600$ is the best and most powerful GPU that you can have. This Navi 22 GPU is built on a 7nm process, and the chip consists of 2560 Stream Processors. This Successor of RX 5700 XT is much faster and also has increased memory. The GPU has 2649 MHz and 12 GB GDDR6 Memory with a bus width of 192 bits.
This Red Devil RX 6700 XT is a power-efficient option and requires 2x 8-pin connectors. Not only that, PowerColor has paired an excellent cooling system with it. The GPU is super silent and also has great cooling performance, which is better than many other RX 6700 XT variants.
Gaming Performance
This GPU is capable of running every title at 1440p resolution with Ultra graphics settings. Even running the heaviest Games like AC: Valhalla, Control and Red Dead Redemption 2 at 1440p Highest settings isn't a difficult task for this GPU. Even if you push this GPU to run at 4K screen resolution, it'll not disappoint you.
The GPU is well suited for 1440p resolution because, at 4K resolution, there is an average FPS loss. The GPU performance lies between Nvidia RTX 3060 Ti and RTX 3070. Compared to RTX 3060 Ti, its performance is 7-8% better and almost 3-4% slower than RTX 3070. The E-sports players can also enjoy 1440p 144Hz gameplay with High graphics settings and even 240Hz at competitive graphics settings. You can easily achieve 144+ FPS in games like Fortnite, Apex Legends and Warzone; 200-240 FPS in Overwatch, and Rainbow Six Siege at 1440p.
Final Verdit
Overall, the RX 6700 XT is the Best Graphics card under 600 Dollars that you can get right now. Not only its gaming performance is up-to-par, but the features it delivers are also fantastic.
---
2. Zotac Nvidia RTX 3060 Ti Twin Edge OC –
Best Pick for gamers and content creators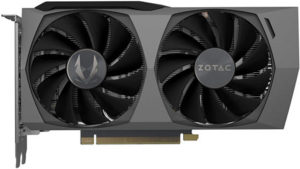 Cuda Cores: 4864 | Memory: 8GB GDDR6 | Boost Clock: 1695 MHz | TDP: 200 Watt | Recommended PSU: 650 Watt | Outputs: 3x DisplayPort 1.4a and 1x HDMI 2.1
Not everyone is an AMD lover, and there are many users who prefer Nvidia PC builds; for them, this Zotac RTX 3060 Ti Twin Edge OC can be the Best pick for you. Not only that, GeForce GPUs have some great advantages over AMD; for example, Reflex (for Low-latency), Better Raytracing performance and DLSS. The GPU has 4864 Cuda Cores, 152 TMUs and a Boost Clock speed of 1665 MHz.
This Zotac RTX 3060 Ti has minor fewer features than Founders Edition. ZOTAC changed the VRAM configuration, which led to a higher energy draw. The good thing is that the GPU maintains very low temps even during gaming, but an important feature is again missing: Idle fan stop.
Gaming Performance
The RTX 3060 Ti is designed for 1440p gaming with 60 FPS or basic level 4K gaming. The best thing is that when DLSS is enabled, the GPU delivers even more frames while maintaining the Quality of the game. An average of 23% more frames were increased by enabling DLSS, which makes it much faster than AMD RX 6700 XT, but it's 8% slower on average. At 4K resolution, In Cyberpunk 2077, the FPS increased from 52 to 71 and 57 frames to 83 FPS in Metro Exodus.
Many games don't support DLSS features, so you can get the advantage of these features in every game. The GPU has 18% better performance than GTX 1080 Ti and 3-4% better than the old RTX 2080 Super. Under 600$, this GPU stills beats many expensive graphics cards.
Final Verdict
Overall, The Zotac RTX 3060 Ti Twin Edge OC is the best Nvidia GPU for under 600 dollars. Whatever your gaming requirement is, this GPU will not disappoint you. The only two drawbacks are the missing idle fan stop, and the gaming power draw is higher, but only 15 Watt more than Founders Edition, and that's easily negligible for a GPU that consumes 225 Watt.
---
3. XFX Speedster SWFT210 RX 6600 XT –
Great 1080p/1440p Gaming GPU
Cuda Cores: 2,048 | Memory: 8GB GDDR6 | Boost Clock: 2,589 MHz | TDP: 160 Watt | Recommended PSU: 650 Watt | Outputs: 2x DisplayPort 1.4a and 1x HDMI 2.1
If you are looking for a GPU that costs between 400 to 500$, then right now, there is no better option than Radeon RX 6600 XT. In today's current pricing, the RX 6600 XT can be found much closer to its MSRP. The RX 6600 XT is targeted for Full HD 1440p Gaming or 1080p 240Hz E-sports gaming.
The RX 6600 XT is a very power efficient graphics card, almost 22-23% more power-efficient than RX 5700 XT and Nvidia RTX 2080. During Normal gaming, the GPU temps remain very low, and even the fans don't produce any noise.
The XFX Radeon Speedster SWFT210 RX 6600 XT competes with many powerful graphics cards both from AMD and Nvidia. As compared to the previous gen-RX 5600 XT, the 6600 XT is 24-25% more powerful and almost 10-11% more faster than Nvidia RTX 3060.
Gaming performance
At 1080p Ultra Graphics, Call of Duty: Cold War ran with 115 fps, AC: Valhalla with 103 FPS, Fortnite with 125 FPS and COD: Warzone with 105 FPS. At Competitive settings, Fortnite ran with 400+ FPS, Warzone with 160+ FPS and Apex Legends with 250+ FPS.
Conclusion
All-inclusive, the XFX RX 6600 XT is the best graphics card under 600 dollars for 1440p Gaming. The GPU also has great pricing and features. It is paired with a power-efficient board and a decent cooling system. If you are a casual gamer who doesn't want to compromise on graphics settings at 1080p, you'll find the XFX SWFT210 RX 6600 XT the best option.
---
4. MSI GeForce RTX 3060 Gaming X –
Great 1080p gaming and content creation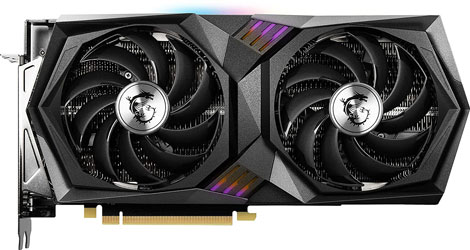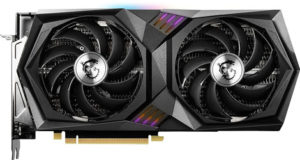 Cuda Cores: 3,584 | Memory: 12GB GDDR6 | Boost Clock: 1,837 MHz | TDP: 170 Watt | Recommended PSU: 550 Watt | Outputs: 3x DisplayPort 1.4a and 1x HDMI 2.1
The MSI RTX 3060 Gaming X is designed for 1080p gaming with maxed-out Raytracing and even high-quality 1440p gaming. This is a factory overclocked version of RTX 3060 that makes it almost 2% faster than the reference model. The performance of this successor to the RTX 2060 provides an improvement over RTX 2070 and is almost as good as the AMD RX 5700 XT.
This dual-slot GPU is based on Ampere Architecture and also has 12 GB GDDR6 fast memory. The Memory has a 192-bit Bus size and Bandwidth of 360 GB/s. This Card is powered with a Twin Frozr Trox Cooling system that keeps the temps extremely low and very low noise levels. MSI also overclocked this GPU to 1852 MHz boost Clock (1777 MHz is of reference model).
Gaming Performance
We can recommend the RTX 3060 for 1080p Gaming with RTX and 1440p gaming without
RayTracing. It can easily run COD: Warzone with 100+ FPS with RTX and DLSS ON, and Battlefield V with 80+ FPS. If you push the resolution to 1440p, every title runs with 60+ FPS Ultra Graphics settings. But for 4K gaming, you have to push the Graphics down to achieve smooth gameplay.
Conclusion
Overall, the MSI GeForce RTX 3060 is a great option for 1080p and 1440p gaming. The GPU is also very power efficient and is paired with a superb cooling system. The only Drawback again is its current pricing, but still, it's a reasonable option under 600$; Not the best option.
---
Conclusion
In this article, we have discussed the best graphics cards under 600. But in conclusion, we can easily recommend the PowerColor RX 6700 XT for gamers because it can run almost every game smoothly at 4K resolution. If you are a content creator and gamer too, then there is no better option than Zotac RTX 3060 Ti for under 600 dollars right now.