The Best Graphics Card for Non-Gamers
Non-Gamers also demand the very best graphics card to do different works like 3D rendering, Video editing, Photo-editing, machine learning, or to just run a 4K Monitor. The Integrated Graphics card is not a good option for these works. When you install a strong graphics card on your PC then the highly-resolved images and videos, imaginative and intricate visual artwork, and 3D scenes and models can be opened, rendered, and edited promptly.
The best graphics cards will allow you to accelerate the process and make it quicker to work more and earn more. The Graphics card designed for professionals are mostly expensive But Many Gaming cards Like RTX 3070 or RTX 3080 also provide excellent performance for professional or Creative workers.
The performance of gaming cards can be very close to professional GPUs if we compare in terms of price. Choosing the best graphics card for Non-Gamers depends on some factors like your budget, your system requirements, etc. In this article, we'll try to cover every best graphics card for non-gamers.
---
Best Graphics Card for Non-Gamers
| Product Title | Design | Model | Check Price |
| --- | --- | --- | --- |
| Best GPU for Every productive work | | Nvidia RTX 3080 Founders Edition | VIEW ON AMAZON |
| Best GPU for Video Editing | | Nvidia RTX 3070 Founders Edition | VIEW ON AMAZON |
| Best GPU for Graphic Designing | | MSI GeForce GTX 1660 Super Gaming X | VIEW ON AMAZON |
| Best GPU for Video Editing on macOS | | AMD Radeon RX 6800 XT | VIEW ON AMAZON |
| Best GPU for CAD ( Autodesk) | | Nvidia Quadro P2000 | VIEW ON AMAZON |
| Best GPU for Watching 4K video | | Gigabyte GT 1030 OC | VIEW ON AMAZON |
---
1. Nvidia GeForce RTX 3080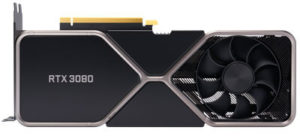 The latest GeForce RTX 3080 from Nvidia is the best option that you can purchase at present at this price point. This is an ideal choice for creative workers. The card provides ray tracing and AI assistance, which will accelerate your workflow, whether it is to create ultra-resolution videos or complicated 3D models. The card also has a 3rd Generation tensor core which will accelerate AI deep learning neural-net building and training. In Blender 2.90 – OptiX the Render time of RTX 3080 was twice better than RTX 2080. This card is a game-changer for professionals who are looking for an affordable and powerful 3D rendering Graphics card.
This GPU is almost 25-33% faster and more affordable than the Previous gen RTX 2080 Ti. While working or Using your computer, you don't have to worry about the temperature of the card because the new RTX 3080 Cooler Design is incredible.  With all these performances the card is also excellent in terms of price/performance ratio.
---
2. Nvidia RTX 3060 Ti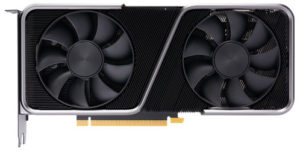 If you can't afford the RTX 3080 or you don't need the power of RTX 3080, then the RTX 3060 Ti is an excellent card that is very affordable and offers the best value for money. This card provides Better performance than the previous-gen Nvidia RTX 2080 Super and is more affordable. This card will boost your professional or creative work a lot. The RTX 3060 Ti is the best affordable option to reduce huge render time. As compared to RTX 2060 Super, which was released at the same price point as the RTX 3060 Ti, the RTX 3060 Ti provides more than double CUDA Cores at just a 25-Watt power consumption increase.
In Blender 2.90, the render time (M: SS) was 20-25% better than the RTX 2080 Super. With Superb performance in 3D rendering, this card is also an excellent option for Video Editing. The Nvidia RTX 3060 Ti released at a price point of 400$ gives great value for professionals who are looking for a budget GPU.
---
3. MSI GTX 1660 Super Gaming X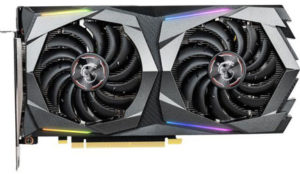 The MSI GTX 1660 Super is the best Budget GPU for Graphic designing. This GPU will also provide a noticeable boost in 2D rendering and Video Editing. It is surely a decent GPU for video editing that doesn't break the bank. When Editing an 8K or a High Frame Rate 4K Video, you'll not get a lot of advantages as compared to high-performance cards. With the Capability of delivering Excellent performance in creative software, the GTX 1660 Super provides a superb price/performance ratio. The card also runs very cool and silent even when it is under full load.
For 3D rendering, the GTX 1660 Super can not be the best option so we recommend this card for digital art software like Adobe Photoshop, Illustrator, etc. With 3x Display ports, you can connect multiple monitors which could give a benefit to professional graphic designers.
---
4. AMD Radeon RX 6800 XT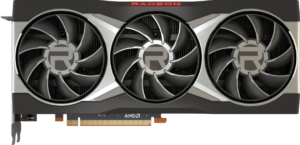 If you are a Mac user and you are looking for the best graphics card to edit on it then you need a graphics card by AMD not by Nvidia because the macOS supports only the cards by AMD. So, here we have the best graphics card for non-gamers, who are using a Mac Pro and need the GPU for the best Video editing experience.
The AMD Radeon RX 6800 XT is a new and Excellent card by AMD competing with the Nvidia RTX 3080. This GPU is a Superb option for 4K pro video editing. The RX 6800 XT performs better than the more expensive RTX 3080 particularly in professional graphics and creative softwares that's because of more video memory and better memory bandwidth. The RX 6800 XT was behind in the software that gives an advantage to Nvidia CUDA.
---
5. Nvidia Quadro P2000
The Nvidia Quadro P2000 is a great option for Plex servers. It can easily handle 15 1080p 10 Mbps transcodes without any problem. This card is also an excellent option for powerful engineering software like FEMAP and Solid works etc. This card is also a great upgrade for CoralDraw, Fusion 360, and other drawing tools. This GPU can support up to five 5K monitors at 60 Hz, and two 8K displays.
This makes it a great option to accelerate product production and content development workflows requiring a smooth interactive approach with massive, dynamic 3D models and scenes. You should use the GPU if you are designing a workstation and are knowledgeable that your needs are moderate.
---
6. Gigabyte GT 1030 OC 2G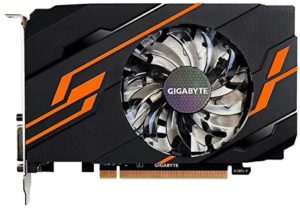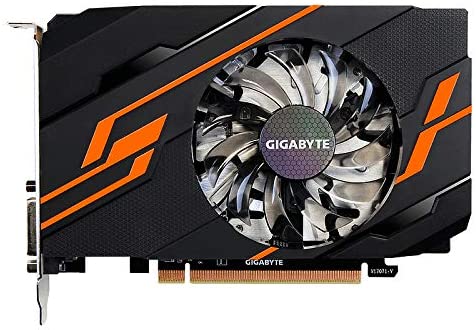 The Gigabyte GT 1030 OC is the perfect choice for non-gamers who wants to watch 4K Video on a 60 Hz Screen because this card supports HDMI 4K at 60 Hz. This card will also boost your creative work like video editing or photo editing a little bit. You will see a significant boost in performance as compared to the Integrated Graphics card. The GT 1030 OC temperature stays around 37-40C with non-gaming use like watching 4K video, web development, Web surfing, or using MS Office, etc.
You can also easily overclock this card by AORUS Graphics Engine, overclocking will increase the performance of the card. The card is integrated with 2GB GDDR5 64-bit memory. The GDDR5 Memory in Gigabyte GT 1030 OC has a very better performance compared to GT 1030 with GDDR4 Memory.
The card is also very small in size so it can be fit in any case without any hassle. The card also requires very little energy, only 30 Watt and you don't need any power connectors to connect the card.
---
Conclusion
If you are looking for a graphics card that is just a better option than an integrated graphics card and can run 4k videos at 60Hz easily or a graphics card that can support or capable of doing any creative or intensive work, you'll find this article helpful. We have tried to discuss the Best graphics card for Non-Gamers in every aspect.  The Nvidia RTX 3080 was the best solution for non-gamers who are looking for a Powerful GPU.