The Best Graphics Card for Z370 Motherboards
If you have a Z370 Motherboard like the MSI Z370-A Pro, Gigabyte Z370 Aorus Gaming, or any other Z370 Motherboard and you are looking for the best Graphics card for it, then that's not a problem now because we have selected the best graphics card that you can pair with it.
The Z370 supports 8th Gen Intel processors and DDR4 Memory, 4000+(OC) MHz, which's a great thing. The z370 Motherboard is specially built for Hardcore Gamers. If you are a PC Enthusiast, then all the graphics cards in this article will provide an you excellent gaming experience when paired with your Z370 motherboard. So, let's talk about the best graphics card for Z370 Motherboard.
The Best Graphics Card for Z370 Motherboards – Reviewed
| Name  | Image | Product Title | Check Price |
| --- | --- | --- | --- |
| MSI GeForce RTX 3070 Gaming X Trio | | Best Graphics card to Pair with Z370 | View at Amazon |
| Nvidia GeForce RTX 3060 Ti | | Best Bang for Buck graphics card | View at Amazon |
| MSI Gaming GeForce GTX 1660 Super | | Best Budget Graphics card for Z370 | View at Amazon |
---
1. MSI GeForce RTX 3070 Gaming X Trio – Best gaming and working GPU for Z370
Specifications
Cores: 5888 | Memory: 8 GB GDDR6 | Boost Clock: 1830 MHz | TDP: 240 W | Outputs: 1x HDMI 2.1, 3x DisplayPort 1.4a | Power Connectors: 2x 8-pin
Let's start with one of the best graphics card from Nvidia, The RTX 3070. The RTX 3070 can do everything the RTX 2080 Ti can, including 1440p Gaming with RTX enabled and 4K UHD gaming with moderately high settings, including RTX mid-tier settings. The MSI RTX 3070 provides more than double the Price/Performance ratio compared to the Nvidia RTX 2080 Ti. This will increase 4K UHD gaming availability while still providing high-refresh-rate Gaming to the 1440p and 1080p e-sports players.
The biggest advantage that you are getting with this premium RTX 3070 is +105 MHz factory overclock, which makes it 4% better in Gaming over the RTX 3070 Founders Edition. The RTX 3070 is the ideal solution for a large 1440p gamer crowd, but the card also has sufficient muscle to run several games on 4K 60 FPS, particularly when you are ready to make some adjustments with graphics settings.
The MSI performed exceptionally well in terms of coolers, hitting excellent temperatures of just 64 degrees Celsius during heavy Gaming.  The levels of noise are also spectacular, only 28 dBA, which is very silent. Overall, the RTX 3070 is a perfect option for 1440p 144 Hz and 1080p 240Hz gaming.
---
2. Nvidia GeForce RTX 3060 Ti – Best Mid-range option for 1440p 120Hz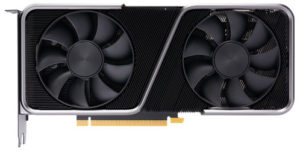 Cores: 4,864 | Memory: 8 GB GDDR6 | Boost Clock: 1665 MHz | TDP: 200 W | Outputs: 1x HDMI 2.1, 3x DisplayPort 1.4a | Power Connectors: 1x 12-pin
The Nvidia RTX 3060 Ti provides smooth AAA gameplay at 1440p resolution, with extra horsepower for RTX ray tracing. It should also do a great job for 4K UHD resolution without raytracing or DLSS enabled and should appeal to the e-sports audience, providing 1080p gameplay at higher refresh rates, such as 144 Hz, with High graphics settings. The RTX 3060 Ti performed 3% better than RTX 2080 Super, also at a very less price.
The RTX 3060 Ti is an outstanding pick for gamers using the 1440p resolution. It still has sufficient capacity for 4K, although you would have to reduce some detail in the more challenging games. This would be a good deal for many, compared to the price. Also, many 1080p Full HD players would like the RTX 3060 Ti, since it gives them enough FPS for high-resolution displays with max graphics.
There is no difference between the cooler of the GeForce RTX 3060 Ti and the RTX 3070 FE. This confirms that the RTX 3060 Ti would perform much better, as the heat output is much less than RTX 3070. Overall, the RTX 3060 Ti is the Best affordable option for under 400$ budget users.
---
3. MSI Gaming GeForce GTX 1660 Super Gaming X – A Budget GPU to pair with Z370 Motherboards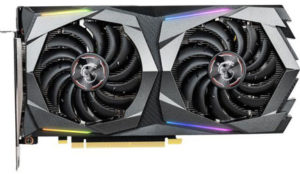 Cores: 1,408 | Memory: 6 GB GDDR6 | Boost Clock: 1830 MHz | TDP: 125 W | Outputs: 1x HDMI 2.1, 3x DisplayPort 1.4a | Power Connectors: 1x 8-pin
A mid-range Graphics card placed between the Nvidia GTX 1660 and GTX 1660 Ti is the MSI GeForce GTX 1660 SUPER. This GPU is the best for gamers who want to play games at 1080p and costs less than 300$. MSI overclocked the card to an estimated 1830 MHz gain, which means that the improvement over the GTX 1660 Super stock is 3%. The Radeon RX 590 from AMD's is 22 percent behind the GTX 1660 Super. For 1080p-60 Hz gaming, the MSI GTX 1660 Super is the perfect pick. Almost Every Latest Game, Like Red Dead Redemption 2, Metro Exodus, Marvel's Avengers, Assassins Creed Valhalla, and COD: Cold Wars, are playable with 60+ FPS with High-Ultra Graphics settings.
Its dual-slot, dual-fan cooler does an excellent job of keeping the card cool while still delivering on MSI's goal of low noise levels. The card is extremely quiet, producing just 30 dBA during heavy gameplay. It also has the famous fan-stop feature, which entirely turns off the fans during idle, desktop function, Internet surfing, and light Gaming. This one has the best cooler of all the GTX 1660 Super cards.
---
Conclusion
The Best option for z370 motherboards is the MSI GeForce GTX 3070 Gaming X Trio Because you can play every game at 1440p and 4K and many games with 1440p with raytracing. Compared to the RTX 2080 Ti, the card provides better Performance at almost half the price.
If you are looking for something more affordable and still want to enjoy 1440p Gaming or 1080p High refresh rate gaming, then there is no better option than the Nvidia RTX 3060 Ti. With the Release price of $400, its price/performance ratio is one of the best.
The MSI GeForce GTX 1660 Super is the perfect card to pair with z370 motherboards because it is the best budget card for 1080p Gaming. You can easily get more than 90+ FPS in many games at 1080p and 60 FPS at 1440p.1.4