The Best Graphics card for Photoshop in 2022
Photoshop Depends more on the CPU, but Photoshop has many features or effects that utilize a Graphics card for acceleration; Effects like Blue Gallery, Camera Raw, Lens Blur, Select and Mask, Image Size, etc, and they are very important features of Photoshop. Some features don't work well without a good GPU, features like 3D, Flick panning, Perspective Wrap, Oil Paint, and a few more. A GPU with at least 4GB or more VRAM is recommended for Photoshop. Professional Photoshop Editors primarily work on Raw images; for raw photos, photoshop takes some time to open the file and requires power to work on them. With the best graphics card for photoshop, this work can be done fast and smoothly.
In terms of the best GPU for Photoshop, the Nvidia graphics cards took the lead, although AMD graphics card like AMD RX 5700 XT also performs great in photoshop, but Nvidia graphics cards are more preferred by Adobe Applications. So, we selected the best graphics cards that perform well and will not break the bank.
---
Best Graphics card for Photoshop
---
1. MSI GTX 1660 Super Gaming X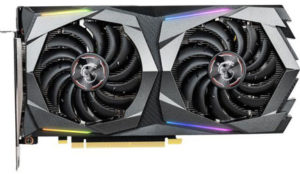 Cuda cores: 1,408| Boost Clock: 1,830 MHz| Base Clock: 1530 MHz | Memory: 6GB GDDR6 | Memory Clock: 14 Gbps| Outputs: 3x Displayport, 1x HDMI  
A GPU provides a tiny but visible performance boost for most graphic artists working with photographs, particularly for Adobe suite products that can use CUDA cores to speed computationally intensive tasks. The MSI GTX 1660 Super has 6GB, GDDR6, 192-bit Memory which is clocked at 14 Gbps, and that's more than recommended. While working on large-size images or applying a lot of filters on any image, you'll not face any problems like slow loading or editing. This GPU also provides the best price/performance ratio in this budget segment.
If we talk about its photoshop performance, like loading Raw image, the MSI GTX 1660 Super performed almost the same as the GTX 1660 Ti and GTX 1070. So, the GTX 1660 Super becomes more affordable.
If you don't want to hear any loud noise from the Graphics card, this GPU will also provide you the solution for this because MSI did an excellent job with this card's coolers. Its dual-slot, dual-fan coolers provide outstanding cooling and very low noise. There is also a fan-stop feature that turns off the fan completely during normal desktop work. For example, if you are looking for stock images or graphics-related things on the internet, the fans will completely shut down for a complete silent experience.
---
2. Gigabyte GTX 1650 Super Windforce OC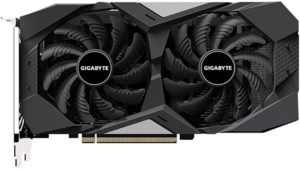 Cuda cores: 1,280 | Boost Clock: 1755 MHz| Base Clock: 1530 MHz| Memory: 4GB GDDR6| Memory Clock: 12 Gbps| Outputs: 1x HDMI, 1x DVI and 1x DisplayPort
The Gigabyte GTX 1650 Super a GPU for the low-budget segment. The GTX 1650 Super is the best card under 200$ that you can get for Photoshop. The GTX 1650 Super has a 128-bit GDDR6 memory interface that carries 4 GB of memory. The card performed amazingly while applying Gaussian Blur, Lens Blur, etc. The software runs flawlessly with this card. The only that we found in this card that can be a deal-breaker for some people is the Noise level, the GPU was producing 38 dBA noise under load, which is loud, but if installed in a good PC case, the noise level is reduced a lot. On the other hand, the temperatures of this card are superb-only 64°C. The company also included the Idle Fan-stop feature for users to enjoy a noise-free experience during less GPU-intensive work like web browsing and light photo editing.
The Gigabyte GTX 1650 Super is 30-35% faster than GTX 1650 non-super and only 8-10% slower in photoshop than GeForce GTX 1660. We can confidently suggest the GTX 1650 Super as a fantastic Photo editing GPU in this price range.
---
3. MSI GeForce GTX 1050 Ti Gaming X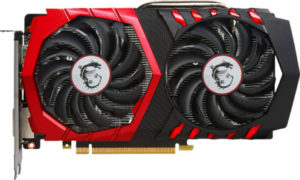 Cuda cores: 768 | Boost Clock: 1468 MHz | Base Clock: 1,354 MHz | Memory: 4GB GDDR 5| Memory Clock: 7 Gbps | Outputs: 1x DVI, 1x HDMI and 1x DisplayPort
Finally, the MSI GeForce GTX 1050 Ti Gaming X is the best affordable card for Adobe Photoshop. This MSI version is overclocked out of the box and provides 5% better performance than the reference model. The GTX 1050 Ti contains 768 CUDA cores, 32 ROPs, and a 128-bit GDDR5 memory, with 4 GB of memory and that the recommended specs for photoshop. With this card, you'll never face any slow speed issue or any crash. The card worked perfectly fine in photoshop.
This is the most silent and cool card in the best graphics card for photoshop; even with overclocking, the temperature just raised from 64°C to 65°C. The GPU is almost inaudible when installed in the case. The fan stop feature is also included in the card that provides a completely silent experience, very low temperature, and less power consumption during light editing and everyday use. This card consumes significantly less power. It doesn't require a powerful power supply to run even a 350W PSU is perfectly fine. It is not that powerful as the GTX 1650 Super, but it is more silent, cooler, and more energy-efficient.
---
Conclusion
As compared to the integrated graphics card, an external graphics card provides a much faster and smoother experience in photoshop. Some features are GPU demanding in photoshop, and with a good graphics card, you can smoothly use those features. The best graphics card for photoshop depends on your requirements or to which extent you want to use photoshop. But in overall performance, the MSI GTX 1660 Super is the best GPU for Adobe Photoshop.