Is Nvidia RTX 2060 6GB is good for Gaming in 2022
There are many choices when it comes to gaming GPUs, and what is suitable for one person may not be good for another. That's why it is important to find a system that suits your needs, but most importantly, it's essential to look at the performance of the hardware you are buying.
When it comes to gaming, there are a lot of choices in graphics cards. But, if we talk about the Nvidia RTX 2060 6GB, you'll not find 1080p gaming difficult. For 1080p Ultra Graphics Gaming, the RTX 2060 is good for gaming. You can easily play every latest game with 60+ Frames. Nvidia has also released the 16 GB variant of RTX 2060, but we'll primarily talk about the 6 GB version in this article.
---
Nvidia RTX 2060 1080p and 1440p Performance
The RTX 2060 was designed specifically for 1440p gamers. Whereas in current games the card will struggle at 1440p resolution, but you'll have a good time playing games with it. Nearly every game at 1440p has a frame rate of 30 or above. The GPU will struggle to offer 60+ FPS in high-end games like Red Dead Redemption 2, AC: Valhalla, Cyberpunk 2077, and others, therefore decreasing some graphic settings to obtain 60+FPS  will be recommended.
Now that was an idea of how it'll perform at 1440p, and you can also see the image below about its 1440p performance to have a good idea. For 1080p gamers, it will go very well. They can play every game with Ultra graphics and smooth gameplay. E-sports lovers can also enjoy high fps gaming.
Can it Run Games at 4K?
The Nvidia RTX 2060 6GB can play games at 4K resolution but with lesser graphical settings. Many games require you to set the graphics to medium to get decent frame rates. With 60+ FPS and High graphics settings, you can play GTA V, Battlefield 1, and a slew of other AAA titles. However, if you want to play the latest games with maxed-out visuals and 60+ frames per second, the RTX 2060 isn't a viable choice.
If 30-45 frames per second are acceptable for you, then there are plenty of fantastic games to choose from. With 30+ FPS and High Graphics settings, the GPU can easily run AC: Odyssey, FarCry 5, Watch Dogs 2, Rise of the Tomb Raider, and The Witcher 3. The RTX 2060, on the other hand, isn't a viable option if you want to play the latest games with maxed-out graphics and 60+ frames per second.
Is the RTX 2060 is the best option, or there are other better options?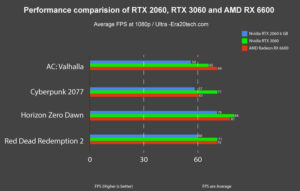 The GeForce RTX 2060 is a great graphics card for the price, but it's not the most powerful option for gaming at the moment. Its performance is better than the Nvidia GTX 1070 Ti and AMD RX Vega 64, but AMD RX 5600 XT, RTX 3060, and AMD RX 6600 are more powerful with better price/performance ratio. All these GPUs are cheaper with better gaming performance.
When the pricing of the RTX 2060 is compared to the Nvidia RTX 3060 and AMD Radeon RX 6600, the release price of AMD RX 6600 and RTX 3060 are the same, but the RTX 3060 gives 16 percent greater FPS than the RTX 2060 while the RX 6600 is 14 percent more powerful. So, both GPUs are so superior to the RTX 2060.
---
Nvidia RTX 2060 Specs and features
The Nvidia RTX 2060 is a 6GB GPU with 1920 shader units. It has 1680 MHz of boost clock speed and 1750 MHz of Memory Clock speed.
It delivers mid-end 1440p performance and High-end 1080p performance, making it a good 1080p graphics card for gaming in 2022. You can also enjoy a 120 or 144Hz refresh rate monitor in E-sport titles.
Temps and Fan noise
The GPU fans are also quiet during gaming, but it doesn't have an idle fan stop feature. Due to this, the fans constantly make noise even when the GPU is not being used. Even during light usage, the fan makes a little noise.
Power Consumption and Overclocking
The RTX 2060 is an energy-efficient GPU, and it consumes 170 Watt during 100% load, which is less than the power consumed by the much slower AMD RX 570 8GB. It's also more power-efficient than the GTX 1070 Ti. Furthermore, the GPU has good overclocking potential. By overclocking, almost 10% performance can be gained. After overclocking, it provides more FPS than the GTX 1080 8GB. After Overclocking, the GPU consumed 19% more power (+30 Watt).
---
Conclusion
Yes, the Nvidia RTX 2060 6GB is a good graphics card for gaming in 2022. You can play games at a 1080p high refresh rate or with 1440p high graphics settings. The GPU is not suitable for 4K gaming, but you can enjoy many games with 30+ FPS. The RTX 2060 is not the best option for 1080p 240Hz or 1440p gaming, since there are many good GPUs for 1080p 240Hz.